Green Arrangements: Origami art and recycling objects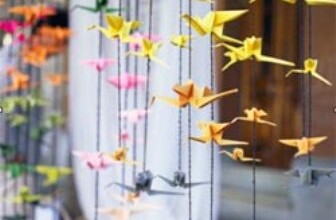 Less than a year to the EXPO 2015 the attention to sustainability is higher and requests for green events and organic catering are more and more frequent.
Without listing the basic rules to offer a catering service "authentically" green, what particularly fascinates us in the organization of  a green event  is  the extensive and original offer of original furnishings and installations made with recycled paper or plastic; especially the technique of origami, an ancient art, rich in meaning and very impressive.
The advantages of using origami in the preparation of external or internal exhibitions are different; the ability to use different types of paper, from rice paper to used books, greatly reduces costs and the flexibility to create shapes with different meaning  helps to customize the event.
Similarly the transformation of industrial objects in models of furniture and decoration; from vintage bar pallets to the plastic green lawn, examples of recycling objects are very current and represent a new way of thinking about the event as a model of creative and sustainable energy.